I welcome your comments. Please click here to visit my blog.

Enjoy Brian's photo collection from his travels to Iran and other places

Calendar 2008/2009

You are cordially invited to " Yalda Celebration 2009"شبیلدا

THE LONGEST NIGHT OF THE YEAR a Night of Poetry, Music and Dance
بلندترین شب سال شب یلدا را با هم باشیم
آجیل و انـار- آش رشته - فال حافظ
و موسیقی زنده ایرانی
Sunday, December 20 th at 5:00 pm - Persian Traditional Food & Beverages - Live Persian Music Persian Center
2029 Durant Avenue Berkeley, CA 94704 - $15 for adults For more information contact us at 510.848.0264

Remarks by Luis Moreno-Ocampo, Prosecutor of the International Criminal Court - The New Global Judicial System Tuesday, December 8, 2009, 6:00 PM

Join the conversation with Luis Moreno-Ocampo, the first Prosecutor of the International Criminal Court, as he discusses his mandate of selecting and triggering investigations of the world's most serious crimes including genocide, crimes against humanity and war crimes. Prosecutor Moreno-Ocampo has opened investigations into alleged crimes commited in the Democratic Republic of the Congo, Uganda, Darfur and the Central African Republic, and analyzed others that have come under the jurisdiction of the Court from countries like Georgia, Colombia, Kenya, Afghanistan, Côte d'Ivoire, Palestine and Guinea.

World Affairs Council - 312 Sutter Street, 2nd Floor - San Francisco


Council Members: Free - Non-members: $15

Demonstration of support for the Iranian Student Movement - December 6, 2009 - 3:00 to 6:00 PM

We support a secular democracy in Iran commemorating Azar 16th, 1953



UC Berkeley, Bancroft and Telegraph. Come on out to show your support!

A Comedy by Houshang Touzie - Sunday,
December 6, 2009 - 7:00 PM - Santa Clara Convention Center

5001 Great American Parkway -
Call 408-996-0661 for tickets
"An Iranian in Heaven", a play by Hushang Touzie, starring Shohreh Aghdashloo
Negotiating with Iran - 11/16/2009 6:00 PM - 7:00 AM - World Affairs Council Auditorium
312 Sutter St., Second Floor, San Francisco, CA 94108


Speaker: John Limbert - Distinguished Professor of International Affairs, US Naval Academy
As the US weighs a change of approach toward the Iranian government after thirty years of confrontation, Middle East expert John Limbert joins the Council to share his assessment of how to engage Iran. Drawing on four case studies highlighting past successes and failures, Limbert challenges both Americans and Iranians to end decades of mutually hostile mythmaking and create a platform for cultural and historical understanding. He argues that Iran will not change its behavior immediately and stop all of its misdeeds in the areas of Middle East peace, human rights and nuclear development. Yet by entering into serious negotiations, the US may discover areas of common interest that lurk behind walls of hostility and distrust. Limbert has served in numerous foreign service positions and holds the State Department's highest award—the Distinguished Service Award—and the Award for Valor, which he received after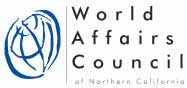 fourteen months as a hostage during the Iran hostage crisis.
Advanced registration is recommended for guaranteed seating. However, pre-registration is not required and walk-ins on the day of this program are welcome. For tickets and membership: http://www.itsyourworld.org/assnfe/ev.asp?ID=2628&SnID=70042125

Members - free, Nonmembers - $15.00, Student with valid ID - $5.00, Ticket with membership - $95.00
Celebrating the Cultural Origins of Persian Carpets - November 24 - 7:00 PM - Bing Theater LA County Museum of Art
5905 Wilshire Blvd., Los Angeles, CA 90036 - Free Admission to the program and the museum after 5:00 PM -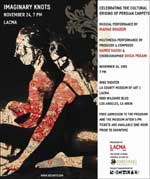 Tickets available one hour prior to the show
PAF's Next Edition of Shab-e She'r!! - Wed, Nov 18, 6-7:30pm - Feat. Hossein Kamaly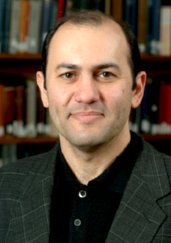 This month PAF's Shab-e She'r series features Hossein Kamaly on November 18th, 6 - 7:30 pm Hossein Kamaly is the Assistant Professor in the Asian and Middle Eastern Cultures Department and specializes in Middle Eastern history and Islamic Studies. After years of working as an electrical engineer, computer programmer, mathematical analyst, and simultaneous interpreter, he obtained a Ph.D. in history from Columbia University in 2004. His research interests focus on intellectual history, and the broad field of Perso-Islamic studies. He is committed to close reading of classical texts, and teaches courses in which important themes are traced across texts and societies. Hossein will also speak about music and rhythm found in Persian poetry. An open mic will follow the reading, inviting everyone to read either his or her own poetry or works by other poets, in Persian or English, bearing some connection to Iran or Iranian/Persian culture.
Reading of "The Tales from the Zirzameen" by Brian H. Appleton aka rasool Aryadust
sponsored by ISAA Iranian Student Association of America at UC Berkeley Dwinelle Hall Rm 182 Saturday Sept 26th 2PM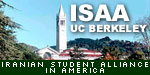 http://isaa.berkeley.edu/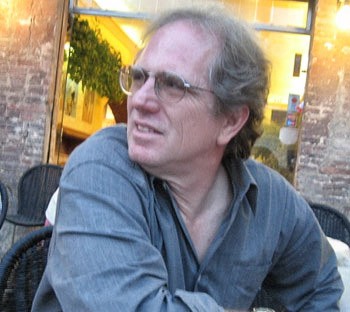 ARYA Global Cuisine - Fridays and Saturdays, starting September 12, 2009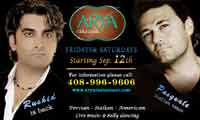 For more information - 408 996-0696 or www.aryarestaurant.com - Persian, Italian, American food
Live music and belly dancing




The Three Iranian Sopranos, Lily Afshar and musical guests - Tehranosaurus with Fared Shafinury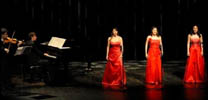 Saturday September 26, 2009, 7:30-10:30 PM - Palace of Fine Arts, San Francisco
Buy Tickets






Butterfly Buzz; Let's Fly! - Saturday, September 19, 2009 - 8:00 PM to 11:00 PM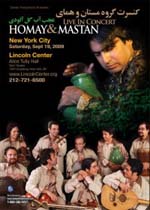 LINCOLN CENTER; Alice Tully Hall, Starr Theater, 1941 Broadway, New York, NY
Zaman Productions proudly presents:
Homay & The Mastan Ensemble LIVE in New York City @ LINCOLN CENTER!!!

After several sold out shows, including one at the Walt Disney Concert Hall in Los Angeles, on Aug 16th, Homay & The Mastan Ensemble perform at the world famous & prestigious LINCOLN CENTER for their fans in New York City.

&Tonbak, Arjang Faramarzi; Tonbak

http://www.lincolncenter.org/show_events_list.asp?eventcode=23091 or 212.721.6500 or TTY 212.957.1709

The Official Website Of " ما هستیم " ( Channel 1 Tv ) " Ma Hastim "
Type: Causes – Protest
&3 Night: $400) - (2 Days-1 Night: $200)
Start Time: Tuesday, September 22, 2009 at 12:00 pm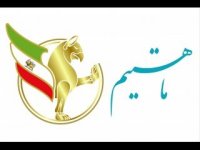 End Time: Friday, September 25, 2009 at 7:00 pm
Location: New York – United Nation Building City: New York, NY
Phone: 1-818-884-5422
Email: shahramhomayoun35@Gmail.com


Ahmadinejad comes to UN!!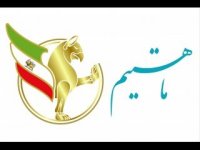 To members of hemayat az jonbesh meli Ma Hastim
August 22, 2009 at 5:29 - Join Us In New York Protest Against Ahmadinejad's Entrance To UN !
http://www.facebook.com/event.php?eid=119825628735&ref=mf

September 9, 2009 Northern California ):IABA Celebration of Diversity Mixer with Honorable Susan Etezadi

http://www.iranianamericanpac.org/candidates/2006_iapac/6A_C011.shtml


The Northern California Chapter of Iranian American Bar Association is delighted to invite you to its Celebration of Diversity Mixer on Wednesday September 9, 2009. Our guest of honor is honorable Susan Etezadi, Superior Court Judge in San Mateo County. Please join us for an evening of fun and networking with other minority bar associations, law student organizations from the Bay Area schools, other Iranian American professional organizations, and representatives from regional bar associations committed to embracing and enhancing diversity
Event: Celebration of Diversity Mixer with Honorable Susan Etezadi
Date: Wednesday 9/9/2009; 6:30 - 8:30 P.M
&Grill, 850 Montgomery Street, San Francisco, CA 94133
Cost: $5 (all proceeds will go to IABA Scholarship Fund)
RSVP: https://web.memberclicks.com/mc/quickForm/viewForm.do?orgId=baa&formId=64164
(Please RSVP no later than Friday September 4)

Post-Election Iran: What's Next? Drew University Center on Religion, Culture & Conflict (CRCC)
Host: Confederation of Iranian Students Type: Education - Lecture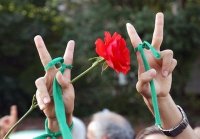 Network: Global Price: * Cost: Free, but registration is required
Date: Wednesday, September 9, 2009 Time: 7:00pm - 9:00pm
Location: The University Center, Drew University, Madison, NJ
Email: email@cistudents.com
Description- The post-election violence in Iran has focused attention on the regime's abysmal human rights record, while at the same time Iran continues to rapidly advance its nuclear program. Iran now stands at a crucial moment, as does the community of nations in terms of how to respond to events within Iran.
This program will examine the rapidly changing situation within Iran, and examine and evaluatestrategies for action and engagement, on the international, national, and even local levels.
Website: http://depts.drew.edu/crcc/iran/index.html
Speakers include: Amir-Abbas Fakhravar, Secretary General of the Confederation of Iranian Students Saad Eddin Ibrahim, Wallerstein Distinguished Visiting Professor, Drew University Golbarg Bashi, Columbia University
Renee Redmond, Executive Director, Iran Human Rights Documentation Center
Ambassador Kristen Silverberg, United Against Nuclear Iran (UANI)
Program sponsors: Drew University Center on Religion, Culture & Conflict (CRCC), Middle East Studies, Department of Political Science; Community Relations Committee of United Jewish Communities of MetroWest NJ; United Against Nuclear Iran; The Human Rights Institute of Kean University; American Jewish Committee of NJ; American Association of University Women.
Hamed Haddadi Basketball Camp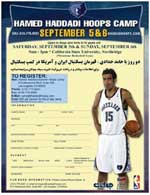 Sign your kids up for the 1st ever Hamed Haddadi Basketball Camp! September 5 and 6, 2009 - Open to Boys & Girls, Ages 6-18. California State University - Northridge - Cost is only $45 for the weekend, includes FREE official camp t-shirt. That's cheaper than hiring a babysitter for 2 days! =)



More information/application: http://www.HaddadiHoops.com
Ahmadinejad Inauguration Protest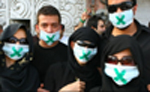 This announcement is another blow to protesters in Iran and around the world. Ahamdinejad inauguration expected to spark unrest in Iran. Please join us in support for the Iranian People in Iran. We will protest for freedom and democracy for Iran. Please bring a candle for the end of the night's vigil to honor the brave Iranians in Iran who have lost their lives for freedom and democracy.
Host: OC Protests
&Portest
Network: Global
Date: Wednesday, August 5, 2009 - 7:00 to 9:00 PM


Location: Jamboree & Barranca, Irvine, CA - Email: ocprotests@gmail.com
Neda Agha-Soltan, the young Iranian woman who bled to death on the street in Tehran during anti-government demonstrations, has become an international symbol of courage in the defense of human rights.


The photographs of her death have turned Miss Agha-Soltan into the most well-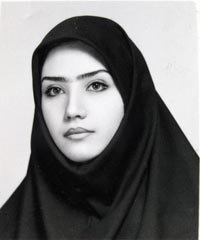 known martyr of the current protests. We would like to gather to commemorate the dead on the 40th day after their death. Neda's 40th is on JULY 30th which is this coming Thursday.
Thursday, July 30, 2009, 8:00pm – 10:00pm
Piedmont Park, 14th Street & Peidmont Entrance, Atlanta, GA
** Please bring a Candle
** Please wear all black
** Please Ask a friend to attend
Thanks again for all your support!!!

Photo at right is of Taraneh Moussavi, also one of the 52 victims being mourned
On July 25, stand in solidarity with the Iranian people
Join this unprecedented wave of global citizen activism for the people of Iran. On July 25, participate in an event in one of more than 50 cities around the world.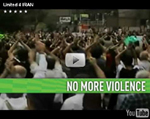 Join a rally in your city in support of the Iranian people and in condemnation of the human rights abuses being committed by the Iranian government. Learn how you can get involved by emailing us at info@united4iran.org. United4Iran is a non-partisan collaborative
San Francisco - Rally time: 12pm-4pm - Rally location: City Hall
More information: www.norcal4iran.com - Contact: norcalunited4iran@gmail.com
Hamed Nikpay & Friends in Concert - Vancouver, BC
For the first time in Vancouver: Host: Bamahang Productions -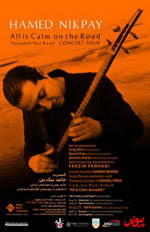 Saturday, August 29, 2009 - 8:00 to 11:00 PM - The Centennial Theater - 2300 Lonsdale Avenue - North Vancouver, BC - Email:
info@bamahang-productions.com
Ziba Karbassi presents at the SF International Poetry Festival, July 25-26:


Saturday July 25, 2009

http://www.thetranslationproject.org/events-summaries/translating-iran/
Translating Iran - Saturday, July 11, 2009 - 2:00 to 5:00 PM Bowery Poetry Club, 308 Bowery, NYC

During these crucial times in Iranian history, as brave Iranian people fight for freedom, we continue to celebrate and present Iranian literature and words in translation, be it through solidarity readings, and continuous translation efforts, or through nominating Iranian writers for international literary prizes and more… We are in awe of the power of people coming together and look forward to seeing you at many events.
Translation Project Events:Literatures of Resistance: In Solidarity w/ the Iranian People, July 11: FREE EVENT featuring Rana Farhan, Luis Francia, Amir Parsa, THE TEHRAN-DAKAR BROTHERS , Eleanor Wilner, D. Nurske, Said Sayrafiezadeh,Roger Sedarat, Dalia Sofer, Niloufar Talebi and more! This free event is sponsored by the Association of Iranian American Writers, Persian Arts Festival, The Translation Project, ArteEast and Bowery Arts and Science. Any contributions at the event will be donated to Amnesty International
GreeNeda Event - MOVEMENT TOWARD A FREE IRAN AT UCI
Human Rights and Freedom are still a struggle for many in the world
Host: Gree Neda Rally - Saturday, June 27, 2009 - 9:00 AM to 9:00 PM
UCI Campus - Aldrich Park - Irvine, CA - Phone: 949-429-3176 - Email: GreeNedaMovement@gmail.com
Description
"Human beings are members of a whole, in creation of one essence and soul... If one member is afflicted with pain, other members uneasy will remain... If you have no sympathy for human pain, the name of human you can not retain..."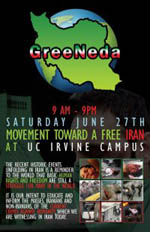 GreeNeda is a movement of unity among world citizens who in light of the latest injustices occurring in Iran have united in support of the Iranian people. It is a movement toward a Free Iran, by the people and for the people in support of the resilient freedom seekers.

Iran's current uprising, following the recent presidential election and the ensuing concerns about fraud, is the most significant movement since the 1979 revolution.

Iran, in hopes of having their voices heard through peaceful gatherings and protests have been met by gun-wielding, baton swinging militia.

Our mission is to educate the public about human rights issues and to promote a platform of solidarity with the people of Iran as they seek their own freedom during the current crisis and the atmosphere of violence and intimidation.

"Teach - In" on the issues surrounding the current climate in Iran. Expert speakers and educators will make presentations on the history of events shaping today's Iran and provide insight into the possibilities for the future.

We respectfully request your participation and presence at our event, which will be held on Saturday, June 27, 2009 from 9:00 a.m. to 9:00 p.m. in Aldrich Park on the campus of University of California, Irvine. http//www.uci.edu. Parking will be available for $7.00 at the parking kiosk. The urgency cannot be emphasized enough as we aim to strengthen the resolve of the people of Iran and to expose the world to the current struggle of the people.

If you would like to make a donation please contact us at GreeNedaMovement@gmail.com


AfterDowningStreet.org - We're on Facebook and Youtube and Twitter
Thursday, June 25th Is Torture Accountability Action Day
A large coalition of human rights groups has planned rallies and marches in major U.S. cities, including a rally in Washington, D.C.'s John Marshall Park at 11 a.m. followed by a noon march to the Justice Department where some participants will risk arrest in nonviolent protest if a special prosecutor for torture is not appointed.

Events are planned in Washington, D.C.; San Francisco, CA; Pasadena, CA; Thousand Oaks, CA; Boston, MA; Salt Lake City, UT; Seattle, WA; Portland, OR; Las Vegas, NV; Honolulu, HI; Tampa, FL; Philadelphia, PA; and Anchorage, AK, with details available online:
http://tortureaccountability.webs.com/eventsacrossus.htm

In Pasadena at 12 p.m. PT citizens will submit a formal judicial misconduct complaint against 9th Circuit Judge Jay Bybee, former Assistant Attorney General.
Whether or not you can make it to one of the events, please do these things on Thursday:
Phone Attorney General Eric Holder and ask him to appoint a special prosecutor for torture: 202-514-2001
Email him the same request: AskDOJ@usdoj.gov
Fax it to him too: 202-307-6777. To easily send a fax for free, go here: http://www.peaceandjustice.it/
Please do these things now:
Sign a petition to Eric Holder if you haven't already:
http://www.democrats.com/special-prosecutor-for-bush-war-crimes
Twitter this: Rallies all over US on 6/25 demanding accountability for torture: http://tr.im/pppa

Share this on Facebook: http://tr.im/ppqb
Beshkan Dance Academy and Enlite Community proudly present Celebration of Dance 2009! Sunday, June 14 - 1:30 to 4:30 PM - McAfee Center, 20300 Herriman Ave., Saratoga, CA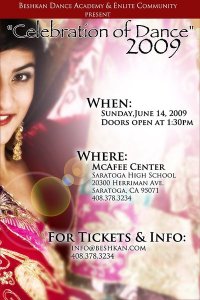 Don't miss out on an unforgettable afternoon of a variety of dances and cultural performances. Doors open at 1:30 PM - General Admission: $20 - Children (11 years and younger): $15 - Tickets can be purchased at Beshkan Dance Academy. For anyone who purchases 5 tickets we will give one free ticket. You will get 6 tickets for the price of 5!

For more information visit: www.beshkan.com - Phone: 408-378-3234
Email: info@beshkan.com
Poetry, Frame Drum Workshop, Carpet Concert - June 5-7, 2009 - London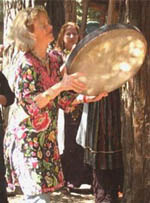 FRAME DRUMS, RHYTHM & VOICE - Arabian Love Poetry. Workshop. Carpet Concert - with Rowan Storm and Friends - This weekend we will journey between the hidden realm of vibration and the manifest world of sound through mystical poetry, music, voice, movement, and the Frame Drum. Become synchronized with the therapeutic roots of rhythm and discover unique self-expression and confidence. For reservations, registration and more information regarding these events please contact :
+44 7529 233981, Stefania Schinaia, s.a.schinaia@inwind.it, Rowan Storm rowanstorm@carpetconcert.com, Caravansary Project - www.caravansary.org
Qajar Architecture - 9th annual conference of the IQSA (International Qajar Studies Association - Vienna June 4th and 5th, 2009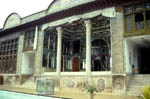 http://www.qajarstudies.org/biosvienna2009.html
Empires and Revolutions: Iranian-Russian Encounters Since 1800 Conference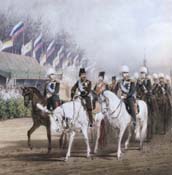 June 12-13, 2009 Khalili Lecture Theatre, SOAS, London - Organized by Iran Heritage Foundation, London Middle East Institute (SOAS) and Soudavar Memorial Foundation - convened by Dr. Stephanie Cronin
The London Middle East Institute, Room M110, Brunei Gallery, SOAS, Thornhaugh Street, Russell Square
London WC1H OXG, United Kingdom,
Tel: +44 (20) 7898 4490 - Vincenzo Paci, Vp6@soas.ac.uk
Click here for more details
KOCE-TV Broadcast Celebrates Contributions of Southern California's Iranian-Americans
Persian community to show support during PBS pledge breaks for Rick Steves travelogue on Monday, May 11, 2009, at 7:00pm on KOCE-TV - the program repeats at 9:00pm

The broadcast seeks to give a local perspective on Iranian issues through interviews with prominent members of Southern Californian's large Persian community. "Iranian-Americans in Los Angeles and Orange County are striving to preserve Persian culture and traditions while also contributing to America's great institutions such as public TV," says Mariam Khosravani, Executive Director of the Coastline Community College Foundation. "This program is a superb example of how we believe in sharing our culture, accomplishments, and contributions."

Rick Steves' Iran shows the glorious monuments of Iran's rich past, as well as Iranian life today--in its giant metropolis, historic capital, workaday towns, and a countryside village. Steves captures Persian culture: from Friday prayer in a mosque to the nonconformist teen fashions at the mall; from anti-American murals to the hospitality of a family dinner; and from the tranquility of rural life to the crazy traffic of modern Tehran.
Rather than a political documentary dealing with the complex issues that confront our governments, Rick Steves' Iran is a travelogue designed to increase our understanding of an ancient nation that has been a leader in its corner of the world for 2,500 years.

Enjoying ice cream with religious leaders, marveling at the popularity of nose jobs for women, and witnessing the sorrow that blankets martyrs' cemeteries, Steves and his crew provide a glimpse of Iran never before shown on American television.
"HAYEDEH, Legendary Persian Diva" (Documentary)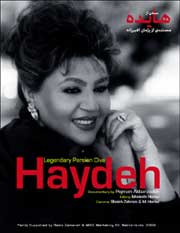 Friday, May 1st, 2009 - 20:00 - Fine Arts Theatre,
Noor Film Festival, Los Angeles
www.NoorFilmFestival.com

Info in English :
http://www.payvand.com/news/09/apr/1217.html
Info in Persian:
http://news.gooya.com/politics/archives/2009/04/085190.php
UCLA Royce Hall - May 10 - A Remarkable Gathering - 4:00 – 7:30 pm (pre-event program starts at 3:00)
In a remarkable gathering, some of the most accomplished Iranian Americans share their experiences with the next generation of leaders. Held at the UCLA Royce Hall on May 10, former CNN anchor Rudi Bakhtiar and the popular actor/comedian Maz Jobrani will co-host a forum that will feature: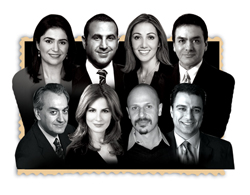 • Omid Kordestani - Vice President of Google and a force behind making this iconic company a worldwide phenomena
• Dr. Pardis Sabeti - An MIT, Harvard and Oxford educated evolutionary geneticist who CNN calls one of the geniuses of our time, and the lead singer and bass player of the Rock band Thousand Day
• Dr. Firouz Naderi - Associate Director of NASA's JPL and the former Mars Exploration Program Manager who headed the Program during the spectacular landing of the rovers on Mars
• Dr. Hamid Biglari - Vice Chair of Citicorp, Princeton nuclear physicist turned Wall Street executive making strategic decisions about a global business in over 140 countries and $1.5 trillion dollars in assets
• Parisa Khosravi - Senior vice president of CNN who joined the giant cable network as a student intern and is now in charge of the international newsgathering for CNN worldwide
• Sam Nazarian - Founder and CEO of SBE, Entrepreneur and business executive who balances and directs the company's multitude of operating groups, including hotels, restaurants, nightlife and real estate


This event --presented by the UCLA student organization Iranian Future Leaders (IFL) in association with Public Affair Alliance of Iranian Americans (PAAIA) – is a part of a student-run annual conference that serves as a cornerstone of the leadership experience and training for hundreds of Iranian-American students from UCLA and other universities.
Tickets have now been made available for purchase through Ticketmaster:
http://www.ticketmaster.com


Najva Ensemble in their first Spring concert! - Saturday, April 18, 2009 - Wilshire Ebell Theatre - 4401 West 8th Street - Los Angeles, CA 90005 -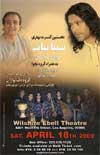 Tickets: 323-939-1129 - www.MelliTicket.com - This concert will include a breathtaking Daf & Tombak group performance by renowned Southern California musicians, such as Mehrdad Arabi, Afshin Mehrasa, Faramarz Amiri Ranjbar, and Mehrdad Naghibian. Additionally, an ensemble of noble instrumentalists have been formed by Mehrdad Arabi to accompany Sina Bayat during this performance.
6th No Rouz Festival - Saturday, April 4, Sunday, April 5 - Vascona Park, Los Gatos, 11:00 AM to 7:00 PM Daily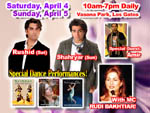 The Program consists of a stage production of individual acts, made up of local amateurs as well as professional talent, and many old friends of the community.
Additionally the food booths will provide the expected excellent food, desserts, and refreshments, from some of the finest establishments in the Bay Area.
You can get all the details by visiting the website at http://www.norouzfestival.org
NIAC Nowruz Fundraiser - To Ensure a new Era of Diplomacy - March 7, 2009 - 6:00 to 9:30 PM, McLean, VA
Cocktails and Dinner - Guests of Honor, Members of Congress,
Ambassador John Limbert, Former Iran hostage, Author of Shiraz in the Age of Hafez,
Special Guest, Director of the Persepolis Fortification Archive Project, Prof. Stolper is the chief caretaker of Takht-e-Jamshid artifacts and is on the forefront of the efforts to prevent them from being confiscated and auctioned off.
Seats are limited. Reserve your ticket today!
Carpet Concert with Rowan Storm and Friends - Persian
music in an int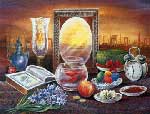 imate traditional setting - March 26, 2009 - 7:00 to 9:00 PM

Location: Craft and Folk Art Museum (CAFAM) 5814 Wilshire Boulevard (at Curson) Los Angeles, CA - Phone 323-937-4230 - Email: RSVP@cafam.org
The Silk Road Music and Dance Ensemble, Saturday, Feb. 14 - 3:00 to 4:30 PM
Mingei International Museum - 155 West Grand Ave. Escondido, CA 92025

Robyn Friend, dance - Megan Rancier, violin, kyl-kobyz
Rowan Storm, vocals, dayereh, daff, dohol - Neil Siegel, Azeri and Persian tar, baghlama saz

The Silk Road Music and Dance Ensemble blends dazzling dances with music, folk tales and sumptuous costumes from Iran, Turkey and Central Asia including Khorassan, Tajikistan, Uzbekistan, Kazakhstan. View the superb textile exhibit including a magnificent yurt from Kyrgyzstan , and learn about the culture of this extraordinary region, once the most prosperous capitol of the world.
www.mingei.org

$10 members and students / $15 non-members
reservations requested: 760.735.3355
Music from Iran: Mohsen Namjoo - Saturday, February 14, 2009, 8:00 p.m.
Dinkelspiel Auditorium, $20/10 (Regular/ Stanford Student)
T

ickets: http://panasianmusicfestival.stanford.edu/tickets.html
Co-sponsoring with the Stanford Music Department
Mohsen Namjoo combines Persian music with jazz, blues, satire, and poetry. He will perform his own compositions on traditional Persian and Western instruments. Please join the artist afterwards for a discussion about Iranian music. This event is a part of a week long residency, presented in collaboration with Iranian Studies at Stanford
Kamkars Live in Concert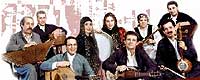 Saturday, Feb, 28 2009, San Francisco - Palace of Fine Arts - Sunday March 1st 2009 Los Angeles - Santa Monica Civic Auditorium
You can purchase tickets at www.cityboxoffice.com

NIYAZ In Concert
February 13, 2009, Palace of Fine Arts Theatre, 3301 Lyon Street , San Francisco, 8:00 PM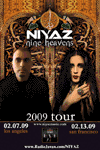 For more information: http://www.radiojavan.com/events/event/386
For more information on NIYAZ: http://www.radiojavan.com/niyaz






View of Iran's Nature - Host: Parham Rezazadeh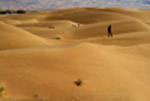 Starting on Saturday January 24th to February 5th 2009 (5th to 17th Bahman 1387), in Banoo cultural centre, Saee park, Vali-e-asr St, Tehran
Opening : 4:00- 7:00pm January 24th - Visit : 9:00am- 7:00 pm - The complex is closed on Fridays
"The Challenges of U.S. Public Diplomacy in the 21st Century" And New Opportunities in the Digital Age - Monday, January 5, 2009 - 12:00 PM - 1:00 PM - UCLA Kerckhoff Hall Grand Salon, Los Angeles, CA 90095

Goli Ameri, U.S. Assistant Secretary of State for Educational and Cultural Affairs & highest ranking Iranian-American public official in the U.S. Government, will speak about the challenges of public diplomacy at a forum at UCLA on Monday, January 5, 2009 at 12pm. The event is free and open to the public. A joint collaboration with the U.S. Department of State, Bureau of Educational & Cultural Affairs, USAC Presidents Office, Iranian Student Group & the UCLA Burkle Center.



Assistant Secretary Goli Ameri leads the Bureau of Educational and Cultural Affairs (ECA), which fosters mutual understanding between people across the world and has launched a new online video contest to promote its new social networking site (http://connect.state.gov). Prior to joining the State Department, Assistant Secretary Ameri served as a Presidentially nominated Representative to the 60th Session of the United Nations General Assembly (UNGA). Before her UN mission in New York , she served as a Public Delegate to the 61st session of the United Nations Commission on Human Rights in Geneva , Switzerland . Ms. Ameri was born in Tehran , Iran , and completed her Bachelor of Arts in Communications and French Literature and her Master's degree in Communications at Stanford University .
Cost: Free and open to the public. Special Instructions
&8 for $9.
For more information, please visit www.international.ucla.edu/burkle.
… Payvand News - 12/31/08 …
A Conversation with Mrs. Bahadorzadeh - Tuesday, December 2, 2008 - 7:00 to 9:00 PM
Location: Cubberley Auditorium, Stanford University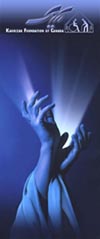 Mrs. Bahadorzadeh has founded the Kahrizak Foundation and through the tireless efforts of herself and thousands of volunteers, she has transformed the lives of thousands of physically handicapped Iranians. She used the modern concept of social entrepreneurship, that combines philanthropy and business acumen, to not only lift the social stigma of physical handicap, but made each individual a proud, self-assured, and productive member of the community. She is visiting California to also receive the annual award for Philanthropy from the PARSA Foundation. The Moghadam Program is grateful to PARSA for facilitating Mrs. Bahadorzadeh's journey to California. Here is our chance to show our community's appreciation to a woman of singular accomplishment and learn about her life.

Map: http://campus-map.stanford.edu/index.cfm?ID=03-300
Closest parking is at the Oval. Look for Lasuen Mall (located to your left, if facing Memorial Church).
A Musical Journey through Persia
5pm-7pm, Saturday, December 6, 2008, Julia Morgan Center, Berkeley, CA - Based on popular demand from its recent premiere performance at Sacramento State University, this marks the second performance of this production.

Given the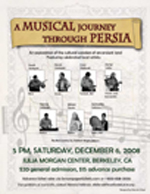 fragility of current political affairs and the media's misrepresentation of Middle Eastern peoples, the goal of this production is to increase our community's culture awareness of greater Persia, as means for promoting unity

Since the linguistic components of this event have been tailored mindful of non-Persian speaking audiences, I encourage the community at large to join us for this memorable event.

Based on our limited seating and high turnouts at our prior performances, we highly recommend pre-purchasing seats to guarantee yourself accommodation (while also taking advantage of our discounted advance purchase rates). Advance tickets sales available at brownpapertickets.com or call 1-800-838-3006. For questions or info, contact Neema Hickmat at nhickmat@stanfordalumni.org.
WHO: KIOSK (with very special guest BABAK AMINI)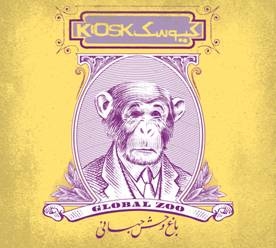 CD release After Party for new Album (Global Zoo) with:
DIRTYHERTZ (Dirtyhertz Productions) ROOZ (DjRooz.com)
WHEN: Friday, Nov. 14th, (8:30 PM - 2:00 AM)
WHERE: The Mezzanine (444 Jessie St., San Francisco)

www.kioskconcert.com
Talk: Classical Persian Music Systems
When: Saturday November, 15, 2008, 6-7pm

Where: Clark Auditorium, Stanford University (Map - Directions)
Workshop 1: Tetrachords in Classical Persian Music (in English)
Workshop 2: Mahur Mode in Classical Persian Music (in Persian)
When: Sunday Nov. 16, 10-11:30am and 3-4:30pm

Where: Encina Hall West, Graham Stuart Lounge (Room 400) (Map)

For more information, contact http://psa.stanford.edu
PSA is delighted to host award-winning documentary moviemaker Aryana Farshad for a movie-screening event at Stanford University. "Mystic Iran: the Unseen World" is a modern woman's mystical journey deep into the heart of her native country Iran in search of spiritual rituals hidden for centuries.

The movie is narrated in English by Shohreh Aghdashloo and the screening will be followed by the Q&A session with director. To watch a sample of the movie please click here. Event's brochure can be found here. The event is free and open to the public. When: Wednesday, October 29th - 7:00 PM - 9:00 PM. Where: James H. Clark Auditorium (Map)
The Levantine Cultural Center presents: Turkish Kasbah featuring vocalist SERPIL BORAZAN - Friday 24 October 2008 ~ 8pm with Silk Road Music and Dance Ensemble Turkish Classical music and Central Asian Dance and iST-West Ensemble Turkish/Flamenco Fusion Music and Dance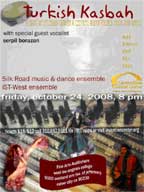 The Silk Road Music & Dance Ensemble features vocalist Serpil Borazan, Ergun Tamer on kanun, Neil Seigel on Azeri tar, Rowan Storm on percussions, and Robyn Friend with dances from Uzbekistan and Bukhara.

Serpil Borazan sings love songs in the Turkish musical modes called Nihavend and Kurdilihicazkar (the latter is a combination of musical modes Kurdi - whose name derives from the Kurdish people who live in eastern Turkey , northern Iraq and western Iran - and Hicaz, whose name derives from the western portion of Arabia ).

The iST-West Ensemble is led by Nyofu Tyson, master of the baghlama saz (Turkish long-necked lute) and Flamenco guitarist Bobby Sokolov, showcasing the dazzling flamenco and belly dance artistry of Cshay Gitane, a Sephardic-Gypsy dancer with roots in Morocco and southern Italy.

Fine Arts Auditorium, West Los Angeles College 9000 Overland Avenue (south of Jefferson)
Culver City, Los Angeles, California 90230 -doors open 7:00 pm, concert 8 pm refreshments available - $18 general admission, $12 students/seniors with i.d. (students/faculty of West Los Angeles College free) free parking - call the LEVANTINE CULTURAL CENTER for TICKETS 310.657.5511 www.levantinecenter.org


Chomsky's film in Tehran film festival - October 15-19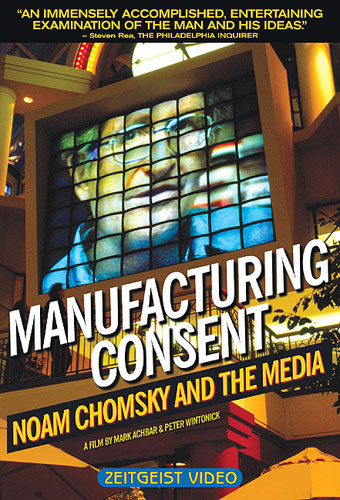 The 'Manufacturing Consent: Noam Chomsky and the Media'
documentary film will be screened in the International Documentary Film Festival in Tehran.
The annual International Documentary Film Festival, organized by Iran's Documentary and Experimental Film Center (DEFC), will be held in Tehran from October 15-19



Saturday, September 27th at 8:15pm

Screening and Q&A for Stand Up: Muslim American Comics Come of Age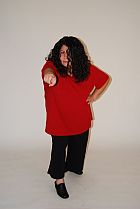 Iranian Film Festival
San Francisco Art Institute
800 Chestnut Street, San Francisco, CA

http://iranianfilmfestival.blogspot.com
Tissa Hami: http://www.tissahami.com


YOU! Come to my show! Find out if I have a left foot.
Hey, no peeking at the other pictures!

Art and Archaeology of Persia (ARC 118) Class at Stanford
Persia has had one of the longest, most glorious and fascinating histories in the world. Too often neglected by the West, Persia's rich and complex culture

was jealously admired by the ancient Greeks and later by the Byzantines. Its legendary arts and architectural sites range from Achaeminid Persepolis to Safavid Tabriz and Isfahan, with its great monuments, rich textiles, intricate miniature paintings, ceramics, and perfumed gardens. Every week we will encounter treasures well known to archaeologists and art historians but unfamiliar to most well-educated Westerners. Some of the highlights will include the fabulous Oxus Treasure Hoard discovered in the 19th century, with its stupendous jeweled metalwork, Persepolis and Sassanian art, and the literary masterpieces: the epic Shahnameh (Book of Kings) and the Tales of Rustam, whose subject is a medieval Persian hero.
To register, go to: http://continuingstudies.stanford.edu/course/ARC118.asp

Patrick Hunt
Director, Stanford Alpine Archaeology Project, 1994–2008
Patrick Hunt received a PhD from the Institute of Archaeology, University College London, University of London. His articles have appeared widely, in publications including the Journal of Roman Archaeology XI, World Archaeology, Studia Phoenicia, and Bulletin of the Institute of Classical Studies. He is the author of several books including Caravaggio (2004), House of the Muse (2005), Alpine Archaeology (2007), Ten Discoveries That Rewrote History (2007), and Renaissance Visions: Myth and Art (2008).
Wednesdays 7:00 - 8:50 pm 10 weeks Sept 24 - Dec 3 2 units $365 Drop by Oct 7

Sunday - September 14 - 4:30 PM -The Camera Cinemas and Golden Gate Cinema are proud to present a one-time only screening of the documentary, Iran: Hot Tea, Cool Conversations, at Camera 3 Entertainment, 288 S. Second Street in downtown San Jose. All seats are $10.
This revealing documentary, chronicling an American college student's eye-opening journey to Iran, is a testament to Citizen Diplomacy, highlighting unscripted, touching interviews with a number of individuals the filmmaker encounters from all walks of life during this once-in-a-lifetime adventure. The human scale of the film cuts through the political rhetoric of the day, unveiling a country full of warm and compassionate people who desire peace and friendship with America and the West.
Go to http://www.iranthemovie.com for more information, or BUY TICKETS now!

Fundamentals of Persian Lyricism - August 9-10, 2008 - Stanford University - Bechtel International Center - By Touraj Negahban, Iranian Lyricist and Poet -

S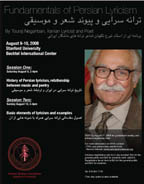 ession One - August 9 - 2:00 to 4:00 PM -History of Persian Lyricism, relationship between music and poetry.
Session Two - August 10 - 2:00 to 4:00 PM - Basic elements of lyricism and examples.
RSVP by August 1st, 2008 for guaranteed seating and advance registration rate.

For more information or RSVP, contact:

- PSA: psa-admin@lists.stanford.edu

- Neema Hekmat: nhekmat@stanfordalumni.org
Advance registration rate for 2-day seminar: $45 for the general public and $20 for students (with valid ID). Registration fee at door is $55 for the general public and $25 for students. Tel: 916 834 7719


--Craft and Folk Art Museum - Exploring the Other: Contemporary Iran through the Lens of Iason Athanasiadis - January 25 to March 29, 2009


This original exhibit examines the Middle East's most controversial country and challenges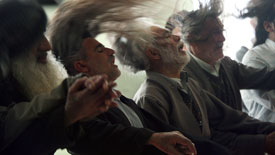 the conventional media narrative, approaching Iran from aesthetic and social counterpoints. Murals commemorating the Islamic Republic's martyrs and mullahs hover over a young generation moving into a modern, post-revolutionary society even while inhabiting thriving social undergrounds that are often not beholden to the laws of the Islamic Republic. In half a dozen bustling cities scattered across the massive Iranian plateau, Iran's traditional culture is adapting and being reinterpreted by a youth subculture that is both Western and critical of the West. This exhibition takes the focus off Iran' s politicians and realigns it squarely on the country and its people.
http://www.cafam.org/upcoming.html


Dubai International Film Festival "Documentary Voices" July 5th through July 8th
http://www.documentaryvoices.com/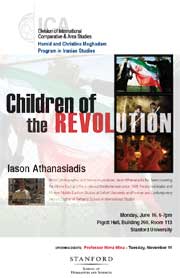 Children of the Revolution
Monday, June 16, 2008 - 6 to 7:00 PM
Pigott Hall, Building 260, Room 113, Stanford University
Iason Athanasiadis
Children of the Iranian Revolution: Photo Exhibit
May 14 through July 10, 2008 - Woodrow Wilson Center for International Scholars
The photographer, Iason Athanasiadis, has been an occasional contributor to World Politics Review. Wit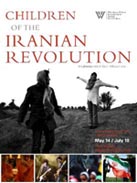 h Iran looming so large in international relations at the moment, it can't hurt to gain insight into the culture of the 70 percent of the country that is under 30.
For a taste of Athanasiadis' photographic style, check out these three photo essays that he contributed to World Politics Review:

Istanbul's Breakdancing Gypsies
Life on Iraq's American Military Bases
A Last Dance Before Extinction





May 9, 2008 - BAM 6.6 Screening Event - 3:00 PM to 6:00 PM
- MIT Roo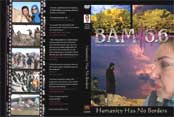 m 4-237, Cambridge, MA, sponsored jointly by MIT Persian Student Association and Harvard Iranian Student Association. Question and Answer session with Director, Johangir Golestan Parast, Writer, Brian Appleton, Photo Journalist, Iason Athanasiadis, Persophile Dr. Frye.

Bam 6.6 won three awards at Noor Film Festival in Los Angeles on April 13: Best Picture, Best Story and Best Director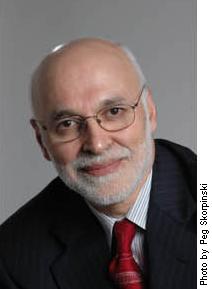 May 7 Public Seminar on Structural, Fire and Bridge Engineering:
"MacArthur Maze: Fire, Collapse, and Reconstruction"
Speaker: Abolhassan Astaneh-Asl, Ph.D., P.E., Professor
Department of Civil and Env. Engineering and Center for Catastrophic Risk Management, (CCRM/CITRIS) University of California, Berkeley Abstract: The seminar focuses on the MacArthur Maze in Oakland, two spans of which collapsed on April 29, 2007 and will provide information on the following areas:
1. The initial design and construction of the Maze
2. Seismic damage during the 1989 earthquake and status of the seismic retrofit on April 29, 2007
3. Fire damage and collapse of the two spans during the April 29, 2007 fire
4. Field investigation of the collapse
5. Analysis of the collapse of the two spans due to the tanker truck fire (in collaboration with the LLNL)
6. How the repair and reconstruction was done?
7. Bridge engineering lessons learned from this fire collapse and reconstruction that can be applied to protect other bridges.
For more information - Click here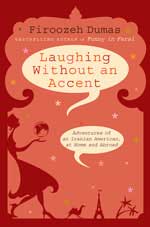 May 5 Book signing at Kepler's at # 1010 El Camino Real in Menlo Park by Firoozeh Dumas with her second book: Laughing Without an Accent. The time is not assigned yet but fans can go to: http://www.keplers.com/ for their event calender when it gets closer or call them at 650-324-4321

Noor Film Festival celebrating Women - April 6-13, 2008 - Mystic Iran

A modern woman's mystical journey deep into the heart of her native country Iran, in search of spiritual rites and rituals hidden for centuries. From the women's chamber of the great mosque, opened for the first time to the outside world, to the rituals held in the remote caves.


And to the sacred dance of the Dervishes, performed in secret in the remote mountains of Kurdistan, Aryana takes you on a mesmerizing and healing journey behind closed doors, and far beyond the ordinary world, exploring the mystic powers of this ancient land.


This is a Special Screening followed by Q/A with Director, Aryana Farshad.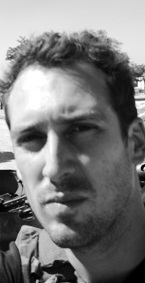 All day conference at UC Berkeley Graduate School of Journalism - April 11, 2008
Fourth Annual Conference on International Reporting - Iason Athanasiadis will be covering reporting on Iran and the middle East from 11:15AM to 12:45




More about the Lady in Red. Thanks to Abbas Soltani for providing a picture. He gets a free book.

Lady in Red movement has been born in Tehran, thirty two years after she is gone...

Brian has just released his first book of poetry called, "1000 Years at the Bottom of a Well; reflections of a soul." You can order by clicking here.

The Tales From the Zirzameen is now available in paperback, from Tate Publishing or Paypal..

Shamshone, Sun of Assyria is now available on Amazon. Click here.

Cary Law has again been the first person to buy Brian's new book of poetry: "1000 Years at the Bottom of a Well; reflections of a soul"

Cary Law was also the first person to buy
Brian's new book Shamshone, Sun of Assyria on Jan 25th, 2013

*First book order for The Tales of Zirzameen placed by Cary of Hong Kong



American Hero in Iran Link to an article by Brian H. Appleton